How Anjali found the confidence to change her life.
Sixteen-year-old Anjali lives in India with her family. They're artists and performers who rely on tourism to earn a living – and when the country went into lockdown, they were left without an income virtually overnight.
Some people found odd jobs to get by, but many more could find no income at all. Food became scarce, children's education took a big hit, and day-to-day family life was almost unrecognisable. All this profoundly affected people's mental wellbeing.
A HARSH NEW REALITY
As Anjali explains: "During Covid-19 we used to stay indoors. We had problems with our food and problems with our studies.
"The biggest problem during Covid-19 was food. When there was no work, we did not get money. And if there was no money where will you get food from? So we had a food crisis in our community."
Anjali's mum, Meera, paints a devastating picture of life in and after lockdown: "We had trouble with everything. We could not go anywhere, nor did we have any kind of work.
"We are sitting here idle… The whole year has been wasted. We are sitting at home for the whole year since lockdown."
It was Anjali's uncle who struggled the most. The pressure of lockdown was too much, and he sadly passed away. Anjali felt the strain that grief and the pandemic was putting on her loved ones. "It was very upsetting. He had many responsibilities on his shoulders. "It is obvious no-one would feel good. My uncle died. We all cried. We cried a lot. We were not even able to celebrate our festival of Diwali."
UP TO 85% OF PEOPLE IN LOW- AND MIDDLE-INCOME COUNTRIES DO NOT RECEIVE ADEQUATE TREATMENT FOR MENTAL HEALTH CONDITIONS.
A SAFE PLACE TO TALK OPENLY
During this time of grief and stress, Anjali has been able to turn to Butterflies, a community health and sports organisation working with children from poor and marginalised communities across India. It creates safe spaces for children to share and tackle concerns – and improve their physical and mental health.
There, children learn life skills and coping strategies, they also learn how to campaign for improvements in the community. Parents learn how to support their children better, and the whole community comes together for annual events.
One of the project workers at Butterflies is Narendra, who was worried about the impact Coronavirus was having on children: "The stress that is being seen now is a big issue… The children cannot describe the mental stress they have faced, but we can talk about these things.
"We talked with the children [then they] started talking about issues openly.
"I've known Anjali since the day our programme started. At first, she was a very shy girl. She didn't used to come or speak much. Even when we tried connecting with her time and again, she did not come. So we slowly started interacting with her. We tried to open her up to the idea of coming.
"As her participation grew, so did the changes that we see."
"She talks of changing the whole environment. At first, she only used to talk of changing herself. Today, she says, 'I want to change society.'"
"THIS IS THE CHANGE"
Anjali recognises the transformation in herself: "By being a member of CHSC the biggest change that occurred in me was that I can speak in front of everyone and can conduct meetings and can write about health sessions. This is the change."
Driven by her passion to improve the society she lives in, Anjali has distributed food to those who need it most in her community – and gone door to door to educate people on how to stop the spread of the virus.
"During Covid-19 there was a food crisis in our habitat. We made a list of people and their needs and we distributed all the groceries that we received from organisations and government to their houses.
"Many other children were also worried, so we conducted meetings during our health sessions."
"WE WILL GO TO COLLEGE TOGETHER"
"Maybe I will be the first girl in our community who will go to college" says Anjali, who the project workers say has become an inspirational peer leader.
"The members of the CHSC of our community will be the first, I mean we will go to college together for the first time in our community."
Anjali's mum Meera is delighted with the improvement to Anjali's confidence and mental wellbeing: "During this lock down many changes have occurred in her. She is able to handle things herself.
"Anjali is doing very well now. She explains everything to others and tells them that they should not be afraid of Coronavirus. She has this knowledge now. I feel happy when she helps others.
"I also wish that some improvements do take place in our community so it will be good for us and for our children."
BRIGHT FUTURES FOR MORE CHILDREN
Narendra believes that by working through their worries in a safe, supportive environment, many more children who attend develop the confidence to make lasting changes to their lives: "The children have begun to think of their own rights, they started to talk about their needs and wants, their future, their employment, their health…"
Staff like Narendra at our partner projects and organisations like Butterflies are working tirelessly to ensure that people experiencing mental health problems have access to appropriate help – and can live free from stigma and discrimination.
We believe that everyone has the right to quality mental health support where and when they need it. One in four people will be affected by a mental health problem during their lives. Yet the majority of the world's population can't access specialist mental health support and many struggle in silence.
With your support, Butterflies will be able offer more young children like Anjali the chance to speak openly about what's on their mind. And lead healthier, safer lives, with bright futures –even during the most challenging times. Thank you.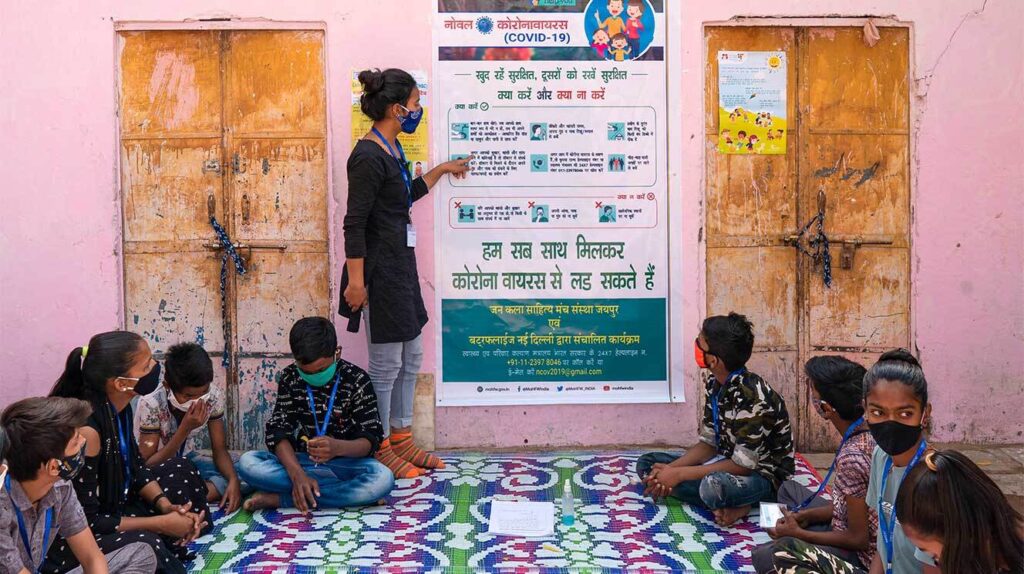 Read more about the Child Health and Sports Cooperative here- https://butterfliesngo.org/programmes/child-health-sports-cooperative/