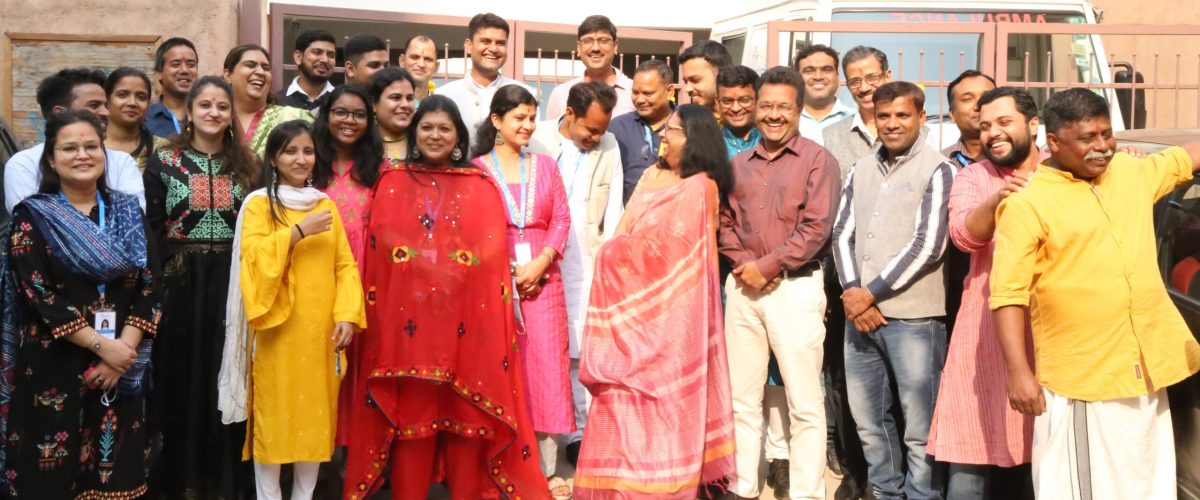 Want to join our family and make a difference in children's lives ?
You are welcome to apply for the positions below -
Building on the right of children to expression, speech, participation, association and access to information, Children's Media Centre was initiated by Butterflies in the year 1996. Butterflies Children's Media gives children the space to create their very own media that gives an expression to the unheard voice of children. It develops children's confidence and provides opportunities for children to train and participate in the production of their own newspaper, radio programs, digital stories and theatre to highlight their issues & concerns which are neglected by the mainstream media. It is a life skill education which helps children to find their own field of interest and to make them aware of happenings in the world and respond appropriately with their views and opinions through these mediums. It is also a tool to monitor the situation of children's rights in their city/region/country which ultimately results in creating a safe and child friendly society.
Butterflies is looking for a Head-Children's Media who will run the Children's Media programme at Butterflies.
Job Description-
1. Manage Butterflies Children's Media programme (children's radio, newspaper & theatre) efficiently with clear and broad goals and objectives, plans and strategies
2. Design and implement activities for the development of Children's Media programme with a special focus on children's radio; contribute in its growth and expansion to more children
3. Facilitate children in producing radio, podcast programme with standard and quality, bringing out their newspaper and children's theatre activities
4. Work towards integration of children's media components in education of children across the organization
5. Conduct workshops with children so that they gain knowledge and skills on journalism and use of various media to highlight their issues & advocate for their rights. This includes coordination with relevant agencies for contribution to children's workshops & ensuring children's voices are heard
6. Create wider publicity of the programme using different publicity and communication medium such as podcasting, translation, social media, focused communication to key stakeholders
7. Maintain sustainable relationship with All India Radio / Prashar Bharati; explore new opportunities for partnership including training, interface and exposure visits of children to their studios.
8. Participate in events, conferences, seminars/workshops and keep yourself upgraded with latest knowledge
9. Conduct Still & Video Photography as and when required.
10. Document activities conducted, case studies, success stories, to measure the contribution and impact of the programme on children's lives
11. Assist in preparing monthly, six monthly and yearly reports of the project. Also, assist in preparation of newsletters and updating website
12. Any other related work assigned to you by your supervisor or the Director.
Desired Qualification: Post Graduate in Journalism (Broadcasting) with relevant experience. Knowledge of designing & editing software/technologies is essential.
We are a child rights NGO and our children are coming from difficult backgrounds. We need a person who is knowledgeable on child rights and is considerate & patient with our children.
Salary – Rs.40, 000-50,000 depending on knowledge and experience
Location- New Delhi. 
How to Apply-
Interested candidates can mail their applications consisting of a cover letter and cv to – butterfliesngo@gmail.com
Butterflies is working with the out of school children in Uttarakhand with support from Samagrah Shikshya Abhiyan, Government of Uttarakhand, since 2008. Using multipurpose vehicles equipped with teaching learning facilities, the programme provides teaching learning support to the out of school children at Non-Residential Special Training Centres (NRST Centres) as defined under SSA and mainstream them in formal schools. The programme is being implemented in Dehradun, Haridwar and Udham Singh Nagar.
Applications are invited for the post of State Programme Manager based in Dehradun (with frequent travel to Delhi and Udham Singh Nagar) to manage the programme in the state. The Programme Manager will supervise the overall program management in the state, develop and implement programme plans and activities ensure quality outcomes. The position will report to the Head of Programs and will supervise field educators.
Major Roles and Responsibilities
• Manage the overall programme for out of school children in the selected districts effectively and efficiently.
• Develop strategies to reach out to out of school children and oversee enrolment, teaching learning activities ensuring learning outcomes, develop tools and methods and conduct learning outcomes assessment regularly.
• Implement program activities with monitoring, evaluation and tracking ensuring quality outcomes.
• Act as focal person and strengthen collaboration and partnership with education department at the State, District, and school levels, work closely with SSA and Labour Department.
• Supervise team and provide directions, mentoring, plan and organise programme review meeting with the team and senior management with clear agenda and expected outcome, document the decisions and communication.
• Financial management and budget utilization efficiently.
• Contribute in identification of sources of funding and resources, support in developing concept notes and proposal in order to ensure sustainability and continuity of the programme.
• Prepare and implement plan for visibility of the programme through outreach, media including social media working with communication team, bring out Newsletter.
• Prepare analytical reports and submit to the supervisor, donor agencies as per the plan timely.
• Document the best practices, most significant stories of change for publication and uploading in our website; organisation's newsletters in collaboration with the Communications Officer periodically and ensure dissemination widely.
Essential Competency
• Theoretical knowledge about education and life skills education of children, understanding about the issues and challenges in accessing formal school for out of school children.
• Excellent programme management skills with proven track records of performance and achievements.
• Demonstrated presentation and communication skills, negotiation skills for initiating or strengthening collaboration, partnership with government agencies, corporate sector and donor agencies.
• Abilities to take initiatives independently ensuring the core goals and objectives of the programme.
• Deep commitments to the values of children's participation.
Qualifications-
-The candidate should have a  Master's degree in Social Work, Education (M.Ed.) or Sociology.
Experience-
-The candidate should have more than 5 years of experience of programme management, project coordination in education, child development.
How to Apply-
Interested candidates may apply to butterfliesngo@gmail.com with their updated CV and a cover letter mentioning Application for the post of Programme Manager – Uttarakhand in the subject.
Over 50,000 children are living on the streets of Delhi with almost no access to education. You can do something for them.
Be a part of an innovative programme of bringing the school to these children.
Become a Teacher for our education Programme.
Subjects – English, Mathematics & Science
Desired Qualification: Post Graduate /B.Ed / Graduate with experience in teaching.
We are a child rights NGO and our children are coming from difficult backgrounds of the age group of 8-18 years. We need teachers who are considerate & patient with our children.
Salary – Commensurate
Interested candidates can mail their cover letter and CV to – butterfliesngo@gmail.com with the Subject- Application for Subject Teacher
While we thank you for your applications, due to the number of applications we receive, we can only respond to those who have been selected.